If you grew up in the 80s, or even the early 90s, there's a pretty good chance that the
Back to the Future
trilogy played a big role in your childhood. The films had it all: science fiction, action, comedy, romance, a great score and some really spectacular visuals. And while I think the first film is superior to its sequels,
Back to the Future II
features more than enough awesome elements, chief among them the inspired guesstimate of what the future would look like, to safely reserve a spot in my moviegoing memory. It seems the film may have also made an impact on artist Tim Doyle, who has put together an awesome
Back to the Future II
inspired gig poster for the Secret Show to the Future Part II ("SSTTF2"), a live comedy event meant to celebrate and poke fun at the best time travel film starring Michael J. Fox from 1989. And no, I'm not talking about
Casualties of War
.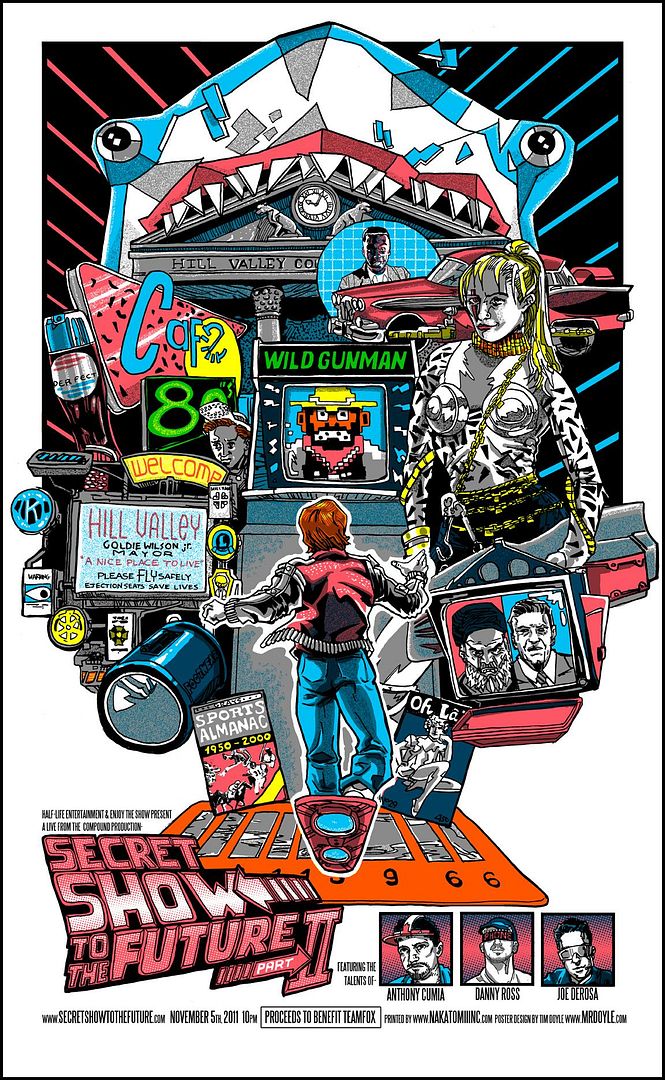 Secret Show to the Future Part II Gig Poster (Regular)
Tim Doyle - 16" x 26"
$50 - Limited to 110 - Signed (by Tim Doyle) and Numbered
$75 - Limited to 40 - Signed (by Tim, Anthony, Joe and Danny) and Numbered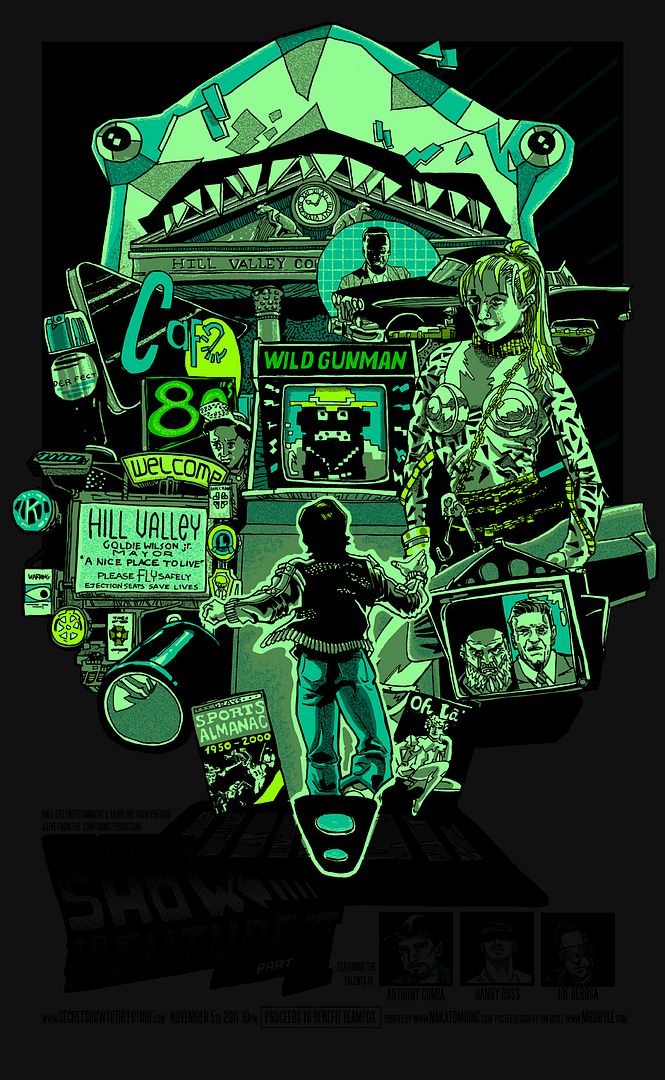 Secret Show to the Future Part II Gig Poster (Glow in the Dark Variant)
Tim Doyle - 16" x 26"
$100 - Limited to 35 - Signed (by Tim Doyle) and Numbered
$125 - Limited to 15 - Signed (by Tim, Anthony, Joe and Danny) and Numbered
The first film took us to the 1950s, the third film took us to the 1880s, but the second film took us far, far, far into the future as Marty McFly journeyed to the year 2015 (less than four years from now for those at home counting). How badly did you want to travel to a future where auto-adjusting / self-drying jackets existed alongside hoverboards? I know I did. Personal tangents aside, Tim Doyle has captured that initial sense of sensory overload Marty suffers upon first arriving in a cutting edge Hill Valley. There's just so much going on here that it's practically impossible to focus on just one thing (although the 3D holographic
Jaws
shark caught my attention first), and that's not a bad thing in my opinion. Doyle's cinematic assemblage gives us, the viewers, a delightfully stylized look into Marty's first experience with the what appears to be the exact opposite of
Blade Runner's
overpopulated dystopian cityscape. Whether you agree with my analysis of the prints or not, you've got to admit they're pretty cool. And if the variant above is to be believed, then you'll have the chance to purchase one of the most impressive glow in the dark posters I've ever seen.
Tim Doyle's
SSTTF2 gig posters
will be
available
on Saturday (11/5) at 10 PM EST, the same time the show starts, through the
SSTTF2 storefront
. The
regular version
of the
print
measures 16" x 26" and is limited to an edition of 150. Of those 150, 40 will be
signed
by Anthony Cumia, Joe DeRosa and Danny Ross, and will cost $75, while the remaining 110
prints
will cost $50. The
glow in the dark version
is limited to an edition of 50, with 15
signed prints
costing $125 and the
remaining
35 costing $100. Every print, no matter the price point, will be signed by Tim Doyle. And here's the kicker, 100% of the poster proceeds will go to Michael J. Fox's
TEAMFOX
organization, so everything you purchase will be donated to a great cause. To learn more about the show, be sure to visit
secretshowtothefuture.com
and follow
@DannyJRoss
on Twitter. For more Tim Doyle shenanigans head over to
mrdoyle.com
,
nakatomiinc.com
, and follow him
@NakatomiTim
.