In an effort to more audibly celebrate one of my favorite pastimes, watching films from the
Criterion Collection
, I've decided to create a new feature called "The Criterion Connection." Sure, it might be a bit on the nose, but what can I say, it's been a long day. This will be my little safe place to obtusely and clumsily wax on about my commitment to Criterion's commitment to important classic and contemporary films.
Monday's Criterion announcement brought us some very exciting news about May's releases, which will consist of
Diabolique
,
Fat Girl
,
The Great Dictator
,
Pale Flower
,
Smiles of a Summer Night
,
Solaris
, and
Something Wild
. In other words, there's a number of incredibly exciting films being added to the collection, as well as a few very cool high def upgrades. I'm most excited for
Diabolique
,
Pale Flower
,
The Great Dictator
,
Solaris
and
Something Wild
, though I'll be mainly focusing on the latter three in today's writing. "Why?" you ask. Well, it turns out that two artists, whom I've long been following (one slightly longer than the other), were responsible for the cover art for these new releases! I figured I would treat the following three DVD / Blu-ray covers like posters and write up my thoughts on the art, the artist, as well as a little info about the title.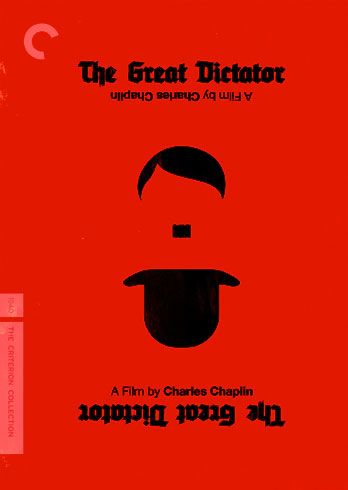 The Great Dictator - Olly Moss
SYNOPSIS (from Criterion's
product page
):
In his notorious masterpiece The Great Dictator, Charlie Chaplin offers both a cutting caricature of Adolf Hitler and a sly tweaking of his own comic persona. Chaplin (in his first pure talkie) brings his sublime physicality to two roles: the cruel yet clownish "Tomanian" dictator and the kindly Jewish barber who is mistaken for him. Featuring Jack Oakie and Paulette Goddard in stellar supporting turns, The Great Dictator, boldly going after the fascist leader before the U.S.'s official entry into World War II, is an audacious amalgam of politics and slapstick that culminates in Chaplin's famously impassioned speech.
The Great Dictator
cover art by Olly Moss is a pure minimalist delight. This is actually kind of an interesting one, because it started as a
poster
project called "
Films in Black and Red
," and at some point Criterion entered the picture and decided to use it for their upcoming release. The only real difference between his
original movie poster
and this new cover art is a slight change in the font type and color. I'd love to know more about how Criterion and Olly hooked up and I'm curious if this means we might be seeing some
Great Dictator
screenprints anytime soon?
The Great Dictator
is one of those classic films that I've never seen and couldn't be more excited to watch. Chaplin's comedy is timeless and his slapstick always seems to be speaking to some larger theme or subject (in this case, the despicable fascism during World War II). In addition to everything I've already
written
about the man, Olly Moss has an online
portfolio
, a
store
and is an avid user of
Twitter
. Criterion's
The Great Dictator
features a fantastic cover for what's sure to be an amazing release.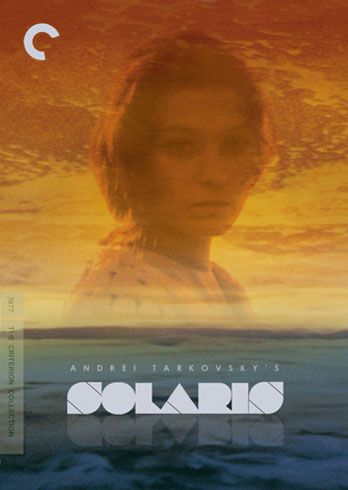 Solaris - Sam Smith
SYNOPSIS (from Criterion's
product page
):
Ground control has been receiving strange transmissions from the remaining residents of the Solaris space station. When cosmonaut and psychologist Kris Kelvin is sent to investigate, he experiences the strange phenomena that afflict the Solaris crew, sending him on a voyage into the darkest recesses of his own consciousness. In Solaris, the legendary Russian filmmaker Andrei Tarkovsky gives us a brilliantly original science-fiction epic that challenges our conceptions about love, truth, and humanity itself.
Sam Smith, who not only created the perfect
Tim and Eric gig poster
, but also put together one of the classiest
Black Swan
prints
to ever grace the Internet, has updated Criterion's
Solaris
cover art. Sam is a pretty versatile artist that seems as comfortable with manipulating photographs as he is with picking up a paint brush (more about that in the
Something Wild
summary). This is another Criterion classic that I've yet to see, although I have seen the Soderbergh remake before, so I've at least got a basic understanding of the plot. I'm fairly certain the landscape is of the titular oceanic planet Solaris, and the superimposed lady must be the visage of the protagonist's late wife Hari. It's a beautiful print and is certainly otherworldly in its color choice. I've actually held off on watching the DVD of this film, because it was rumored to be coming out on Blu-ray and now it seems my prayers have been answered. Now comes the hard part - convincing my girlfriend to watch a deep two and a half hour Russian science-fiction feature with me.
Something Wild - Sam Smith
SYNOPSIS (from Criterion's
product page
):
A straitlaced businessman meets a quirky, free-spirited woman at a downtown New York greasy spoon. Her offer of a ride back to his office results in a lunchtime motel rendezvous—just the beginning of a capricious interstate road trip that brings the two face-to-face with their hidden selves. Featuring a killer soundtrack and electric performances from Jeff Daniels, Melanie Griffith, and Ray Liotta, Something Wild, directed by oddball American auteur Jonathan Demme, is both a kinky comic thriller and a radiantly off-kilter love story.
Remember what I was saying about Smith's versatility? Well here's the proof. Sam has created something altogether different with his
Something Wild
cover art. It's fun, playful and lively - seeming at odds both tonally and aesthetically from his
Solaris
cover. The handcuffs and heart look like paper cutouts placed on a black piece of construction paper. It's got a very handmade appearance. I'm sure you won't be surprised to know that I also haven't seen this film, but am very much looking forward to it. Jonathan Demme of
Silence of the Lambs
and
Philadelphia
fame is someone I have a great deal of respect for and I'm excited to see a comedy from him, as the majority of his films (that I've seen at least) are usually of the heavier and more dramatic variety. For more information on the artist Sam Smith I highly recommend checking out his incredibly awesome
blog
, where he's sure to put up process photos soon, as well as his
store
, where you can pick up his slick
Trash Humpers
movie poster
.
So there it is. Hopefully it's been interesting or at the very least, not horrible. I won't always be reviewing covers, but it felt appropriate this time around. For more information on the
Criterion Collection
be sure to head to
Criterion.com
. I'll leave you with a teaser image from today's Criterion newsletter that's meant to hint at what a future, currently unannounced, Criterion title could be.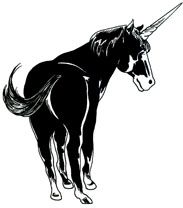 Many folks believe it points to Louis Malle's
Black Moon
from 1975. What do you think?